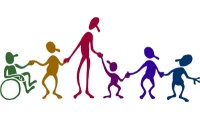 Families of every shape and configuration, both with and without children, are completely welcome at St. John's and are welcome in the heart of God.
Children of all ages are welcome in worship.  Kids can stay in worship with the adults and we provide childcare as an option for all worship services.  Our children's room is newly redesigned, including books and toys suitable for a variety of ages.  Our childcare provider, Elena, is working to develop a more structured learning experience into the childcare time.  Parents and providers work together to ensure appropriate and enjoyable childcare.
We believe in life-long learning, beginning with the simplest stories of early childhood through old age.  Progressive Christianity.org, formerly the Center for Progressive Christianity has developed an innovative new curriculum to teach children what they need to know about the Christian life.  Take  a look at this curriculum: A Joyful Path.